1) Loose Sliding Seal - Verify the NPT fitting supplied with the sensor has been properly tightened. As pressure builds in a closed cryostat it may cause the level sensor to rise out of the cryostat, thereby yielding a false level reading.
2) Bad Connection - If during operation, the cable assembly connecting the sensor to the level instrument becomes shorted by moisture or disconnected (or open due to cable failure), the display will react depending upon the location of the problem. The following table gives examples of these conditions at the various connections on the cable assembly: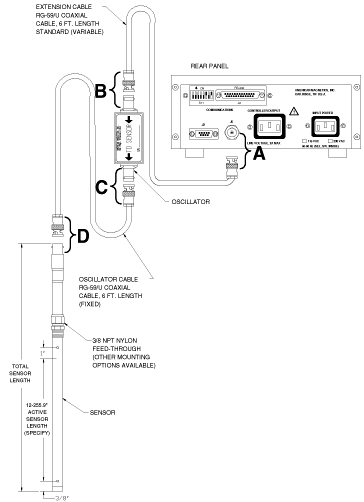 | CONNECTION | CONDITION | DISPLAY | ACTIVITY LED |
| --- | --- | --- | --- |
| B | Shorted | 100 | Blinks 1 time per sec. |
| B | Open or Disconnected | 100 | Blinks 1 time per sec. |
| C, D | Shorted | 100 | Blinks 1 time per sec. |
| C, D | Open or Disconnected | 0 | Blinks rapidly |
| A | Shorted | 100 | Blinks 1 time per sec. |
| A | Open or Disconnected | 100 | Blinks 1 time per sec. |
3) Icing - If your application has the sensor connection D exposed to air in close proximity to a large cold mass then ice may form regularly on this coaxial connection and cable (see photo below). Prolonged periods of exposure to ice in this area will actual cause moisture to cryo-pump or creep through the cable crimp region and eventually short out the signal. After 3-4 weeks of continuous operation this problem will first appear as intermittent level reading spikes to 100% from the normal level reading. On sensors with welded fittings AMI recommends our Frost-Proof sensor extension to solve this problem by increasing the heat path and keeping this critical connection point out of the icing region. On sensors with sliding seal fittings simply providing 4 inches of inactive length above the mount fitting is sufficient.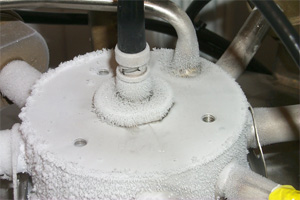 4) Equipment Mismatch - Most level measurement systems are factory calibrated by AMI. The level level instrument will see the oscillator box, cable to the sensor and sensor, all as part of the measurement circuit. It is important to install the correct cable, sensor and oscillator together that were used with the specific instrument during the calibration process. If you received a multiple unit shipment and accidentally mix up components then this can cause false level readings. Even if the sensors are physically identical, changing it with another sensor will introduce an error into the measurement. If this occurs Do Not recalibrate your unit. Simply swap the incorrect items and install the correct ones. The system should now begin to function properly.
In an effort to avoid this problem AMI tags these items with a numeric, color coded tag that quickly identifies which items go together. The sensor and oscillator serial numbers are also identified on the instrument nameplate. An information card inside the package with the oscillator and cables explains this. The pictures below illustrate this shipping technique.
| | | |
| --- | --- | --- |
| | | |
| Color-coded labels assist with matching the correct components. | Card in bag and label on instrument packing inform user of 'matching'/colorcode issues and ECL use. | Matching serial number of oscillator and sensor are on instrument nameplate. |
<< back