Note
Although the short-circuit current output with a zero reference is typically well under 0.5A, if the minimum attainable current is objectionably high, slight offset adjustment can lower the minimum controlled current. While it is not possible to adjust the minimum controlled current to exactly zero, following this procedure should result in the minimum.
Warning
The following should only be performed by qualified service personnel. With the power supply cover removed, service personnel are exposed to potentially lethal voltages.
1. Remove AC-line power from both the Model 420 and the 12100/12200 power supply.
2. Use a small screwdriver to disconnect the Model 420 Program Out wires from the 12100/12200 power supply J2 (pins 5 and 6) on the rear panel.
3. Remove all connections from the 12100/12200 rear output voltage terminals.
4. Remove the top cover of the power supply by removing the screws securing it.
5. Connect AC-line power to the 12100/12200 and turn it ON.
6. Connect a voltage source of 10 mV to the 12100/12200 input, (+) to J2 (pin 6) and (–) to J2 (pin 5).
7. Monitor the voltage at the 12100/12200 output voltage terminals using a precision voltmeter.
8. Locate OFFSET potentiometer 472 on the main PCB near the right rear corner.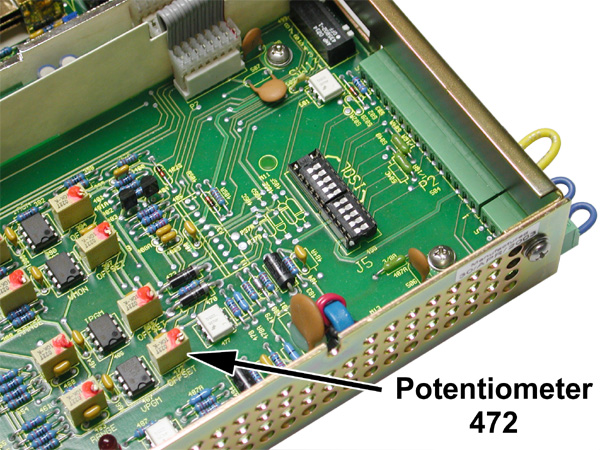 Caution
There are several potentiometers labeled "OFFSET". Adjust only OFFSET potentiometer 472. Continue adjusting only as long as there is a corresponding reduction in output voltage. If the output voltage stops changing, or the rate of change is significantly reduced, do not adjust the potentiometer any further—this will cause overall error in the controlled output.
9. Slowly adjust potentiometer 472 until the 12100/12200 voltage at the voltage output terminals is as low as possible (typically about 100 micro-volts).
10. Remove AC-line power from the 12100/12200.
11. Replace the 12100/12200 top cover using the removed screws—firmly tighten all screws.
12. Disconnect the 10 mV source from the 12100/12200.
13. Reconnect the Model 420 Program Out red (+) output wire to J2 (pin 6) and black (–) output wire to J2 (pin 5) on the 12100/12200 power supply.
14. Reconnect all remaining connections previously removed from the 12100/12200 voltage terminals.
<< back